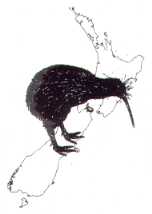 Welcome to the New Zealand Society of Great Britain
The Society exists for the study of the stamps and postal history of New Zealand and its Dependencies. Although the majority of our members are based in Great Britain, we have a large number of international members.
All aspects of New Zealand philately and stamp collecting are dealt with by our members: from Chalon Heads to modern issues; postal history including air mails; health, Christmas issues, commemoratives, Antarctica and revenues as well as definitive postage stamps. Our members range from general collectors to the top specialists in their field.
As well as our journal, The Kiwi, which is published six times a year, we have published several monographs and more are planned. The Kiwi contains articles of both a general and specialised nature together with other useful information on the stamps and postal history of New Zealand. The Kiwi also provides a valuable forum for debate and correspondence between members. Pdf files containing the full text of the first 61 volumes and an index of the first 60 volumes can be downloaded here while the full text for more recent years can be downloaded here. The latter is in a password protected folder and Society members can get the username/password by emailing: kiwieditor@gmail.com
Members who have signed up to get The Kiwi in electronic form can access it here using the user name and password that they have been given.
Meetings are held in London every two months and, in addition, Regional Groups meet in the North West, the Midlands, the West of England and in Scotland. Information is available here.
We are building a major research archive on New Zealand philately. It includes original official Government documents, Campbell Paterson Newsletters and Bulletins, previously published articles, exhibits such as Mrs Purdon illustrated covers and unpublished research by members. The most recent example is an 82 page study of the 1965 Health issue. Other examples are a 280 page plating study of the Dunedin Exhibition issue of 1925, a 72 page plating study of the 1933 Health issue and 1931-32 airmail rates.
Links to scans of past NZ Post Bulletins and Focus Magazines are available here.
Every two years we have a residential weekend held in different parts of the country. The next residential weekend is in Bath on 28th - 30th September 2018.
Members' collecting interests are supported by a thriving packet circuit (available to all UK members), an annual auction and an extensive Library managed in partnership with the National Philatelic Society. The 2017 auction list can be downloaded here and the Library Guide and List can be downloaded here.
A complete site search can be made, e.g. for words in all articles in The Kiwi or CP Newsletter.
Affiliation
The Society was founded in 1952 and is affiliated to:
Updated: 11 December 2017

Visit data
Visits since 30th July 2014